At Stampin' Up! we love our hostesses! From October 9, 2015 to November 9, 2015 we are showing our love with more FREE products!
NOW THROUGH NOV. 9! Get a 3% bonus in Stampin' Rewards for product orders of $300 or more. Here is what the 3% "Extra Stampin' Rewards" looks like: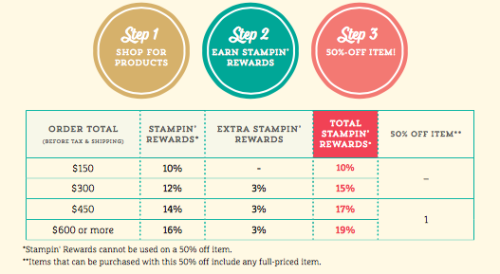 For instance, when you place a minimum $300 order, you will receive $45 in your choice of FREE product or exclusive Stampin' Rewards products. AND you can also use Stampin' Rewards dollars to purchase the Starter Kit. Don't want to place a $300 order? Host a party, have a fun and relaxing time with your friends and when party sales reach a minimum of $300 you get an extra 3% in Stampin' Rewards.